Welcome
Welcome to the website Jill Pawloski - Yoga Instructor. I teach professional yoga instruction in studio and private sessions in order to provide my students with a variety of benefits. Some of the more common benefits my students experience are:

Increased Flexibility
Increased Strength
Improved Posture
Body Alignment
Spinal Alignment

Better Concentration
Relaxation
Stress Relief
Pain Relief
Weight Management
Improved Circulation
Better Balance
Fluid Joints
Healthy Digestion
Lowered Blood Pressure

Improved Sleep
Higher Self-esteem

Inner Peace

I invite you to contact me today and experience for yourself the benefits of yoga by a professionally licensed and insured Yoga Instructor.


With Loving kindness,

Jill Pawloski RYT 200
jilllbeam@cox.net
440-554-7475

---


News

---

Join me Saturday, July 26th at 11:30AM for YOGA 101 at
Yoga Central Strongsville!

New to yoga or would like to refine your practice?

Learn about the meaning of Yoga, the health benefits, breathing techniques, Yoga etiquette, correct alignment of the body, and how to do that perfect chatarunga! :)

Grab a friend or partner and join us at Yoga Central to enjoy the goodness of Yoga!

Cost $30, limited to first 25 registered!

Click here to reserve your space for Yoga 101: https://www.clubready.com/getstarted/1458/103759/



Join me Saturday, August 9th at 11:30AM for BEYOND YOGA 101!
Continue your thorough introduction to Yoga with Beyond Yoga 101. This 2 hour class is the follow up to Yoga 101 and will focus on moving deeper into your Yoga poses, including twists, back-bends, inversion preps, balances, and seated postures.

You will receive invaluable information and build a solid foundation which will guide you through the years of your yogic journey.

Cost $30, limited to the first 25 registered!
Click here to reserve your space: https://www.clubready.com/getstarted/1458/166601/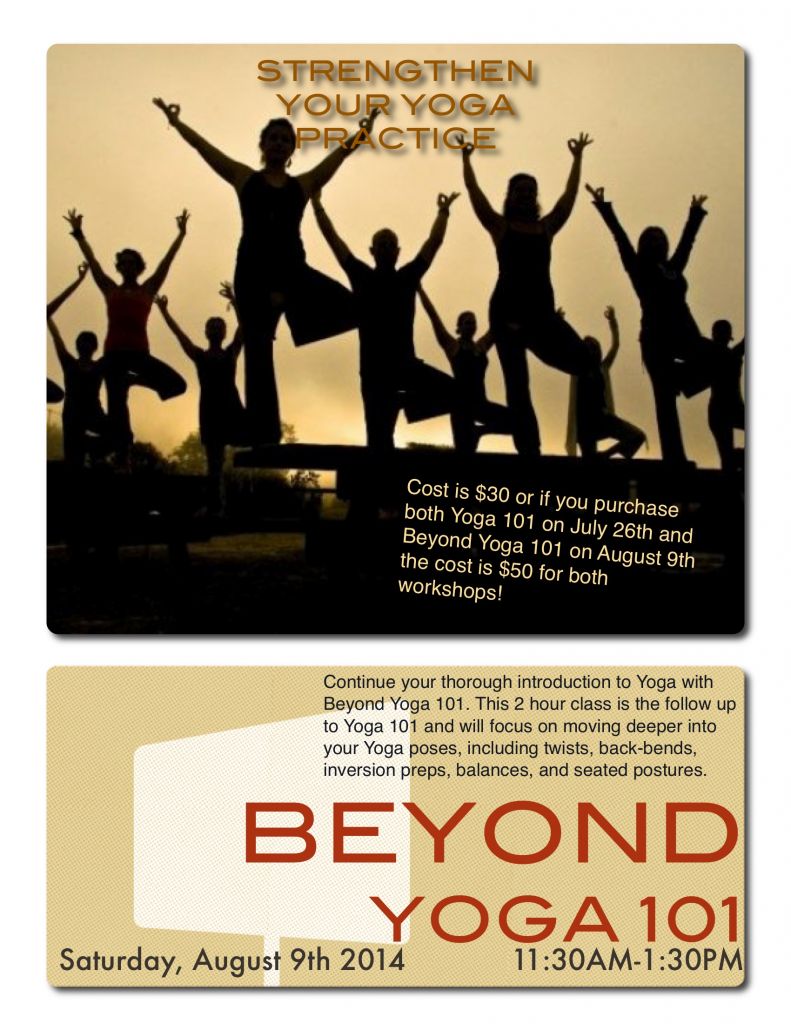 HOT YOGA!!!
Tuesdays and Thursdays at 9:30AM
at Yoga Central Strongsville,
and Wednesdays at 7:45PM
at Yoga 101 in Berea!


Hot Vinyasa is a flowing sequence of diverse poses in a room heated to 90 degrees. All levels welcome, but not recommended for brand-new beginners.


Come sweat it out with us!



RESTORATIVE YOGA
YOGA NIDRA
Fridays at 12PM at
The Reiki Shop, LLC, and
at 6PM at Yoga Central Strongsville, and Sundays at 4:00PM at Yoga 101 Berea!

This class is designed for those who want and need to find peace within with simple resting and stretching poses done on the floor using props. Then take a trip into Yoga Nidra,
a series of guided visualizations and deep relaxation techniques to move beyond the conditioned mind into a state of expanded self-awareness. Restorative Yoga helps you remember how to find the calm in the storm, relax the body and mind, and revitalize yourself so that you feel whole. Come and enjoy this restful yoga practice to help bring balance and peace back into your life again.
**Sign up for our mailing list to get the most recent updates, special events, and class schedule changes!**